Chieftain Mobile Suction Plants
for Multi Operator Industrial Cleaning & Bulk Collection.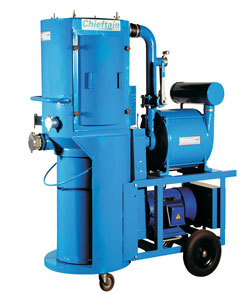 TOXIC DUST HANDLING
For use with toxic substances such as lead, asbestos, ceramics and radioactive materials, Chieftain can be fitted with absolute filters of up 99.997% efficiency.
APPLICATION
The Chieftain range of mobile heavy industrial suction cleaner is designed to tackle a wide range of suction duties for which smaller machines are clearly inadequate.
BULK COLLECTION
Chieftain units can bulk dust and powder spillage from process plant and dense materials such as catalyst & foundry sand at rates of upto 3 tons per hour.
MULTI OPERATOR CLEANING
Chieftains can be used simultaneously by upto 6 operators, although pipe work and hoses must be sized to suit the volume of material to be collected and the conveying distance involved.
ADVANTAGE
Chieftain mobile suction cleaners are built tough enough to withstand the most arduous working conditions of heavy industry.
Turbine type air exhauster consumes least power when running at maximum suction.
Units has no tight internal clearances and thus has minimal maintenance requirement.
Mobility allows users to bring the Chieftains superior suction performance wherever it is needed.
ose diameters upto 75 mm and lengths of 100 meters or more are quite feasible.
CENTRAL SUCTION SYSTEMS
Chieftain units can be connected to runs of fixed pipe work to give multi-level Central Suction service within a building.
| | |
| --- | --- |
| | |
| The Chieftain with basic filter-separator collects material into a large capacity dustbin. For heavy materials this is the largest practical capacity for easy disposal. | For bulky materials a primary separator with hoppered discharge can be specified. Material can be bagged off for dust free emptying, or discharged continuously via a rotary valve. |
SPECIAL OPTIONS :
Chieftains are available with petrol and propane drive in addition to the standard electrical versions. Flameproof electrics and anti static hose are normally supplied for explosion hazard areas. For high temperature applications, Chieftain are supplied with suitable high temperature filters and coolers instead of conventional textile fabric filters.
TOOLS & ACCESSORIES :
Chieftain suction units can be used with hoses of 40 mm, 50 mm and 75 mm bore with a range of nearly 50 special tools and fitments available. The following tools are however most frequently specified with Chieftain machines.
STANDARD SET FOR 40 MM & 50 MM BORE
ACCESSORIES NOZZLE TOOLS

OPTIONAL ACCESSORIES
– 75 MM BORE
5 mtrs long PVC reinforced PVC flexible hose
Fabricated aeration nozzle
abricated shovel type floor clearing nozzle
Cast Aluminium hose connection points [snap valves]

USE WITH MOBILE INTERCEPTORS
Chieftain units can be used with standard portable interceptors for wet or dry materials collection. If necessary, the interceptor cam incorporate a disposable paper bag, for dust free removal of toxic materials such as asbestos, lead, ceramics or radioactive particles, in which case a high efficiency filter is fitted to the suction unit's exhaust.
INTEGRAL PRIMARY SEPARATORS
The option of an Integral Primary Separator hopper with hand operated discharge valve gives the Chieftain range an added versatility and enables the easy collection and disposal of substantial quantities of bulk material such as cement, sand, flour etc. Fines carried over the Primary Separator are collected into the filter dust bucket.
FIXED PIPE WORK FOR CENTRAL VACUUM CLEANING
Chieftain suction units can be connected to fixed pipe work to provide multi level Central Vacuum Cleaning services in factories, grain stores, flour mills and similar buildings. Users thus have a dual purpose, mobile unit of great versatility. Where a completely static system is required, Doctaire-Sturtevant can be relied upon to offer the best proposals for a purpose built plant based on turbo air exhausters upto 100 hp supported by a wide range of standard filters, separators and ancillary equipment.
| | |
| --- | --- |
| | |
| WITH PRIMARY SEPARATOR HOPPER TYPE 865, 675, 635 | WITH BUCKET TYPE 860, 670, 633 |
SPECIFICATIONS
MACHINE TYPE

865

860

675

670

635

633

Motor HP

20

20

10

10

7.5

7.5

KW

15

15

7.458

7.458

5.59

5.59

Exhauster type/stage

8X6

8X6

6X6

6X7

6X5

6X5

Speed RPM

6000

6000

6500

6500

6500

6500

Max suction ins WG

120

120

118

118

100

100

MM WG

3050

3050

3000

3000

2540

2540

Max air volume CFM

650

650

400

400

400

M3/min

18

18

11.3

11.3

11.3

11.3

Hose connectors[mm]

50

50

50

50

50

50

75

75

75

75

Primary separator capacity ltrs

270

180

180

Approx. Dia
Length [mm]

2700

1880

2150

1600

1900

1350

Width [mm]

880

880

750

750

750

750

Height [mm]

1880

1880

1760

1760

1760

1760

Nett Wt. KG

735

450

535

345

500

310
STANDARD ON 865 & 860 MODELS
Filter: 4 sq.m, Fabric with back flush filter cleaning arrangementDust container: Removable, 112 ltrs capacity with cam lockDrive: V belt, fully guarded Starter: Push button automatic/ Star Delta
STANDARD ON 675,670,6355 & 633 MODELS
Filter: 2.7 sq.m, Fabric with back flush filter cleaning arrangement Dust container: Removable, 56 ltrs capacity with cam lock Drive: V belt, fully guarded Starter: Push button automatic/ Star Delta
In keeping our policy of continuous improvement and development, specifications should be taken as a guide only, and the company reserves the right to vary tem without prior notice