Vacuum Cleaners Tiger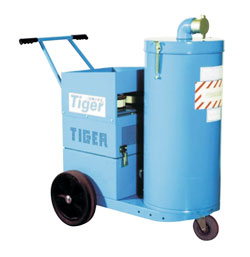 THE NEW Quieter Tiger range of industrial vacuum cleaners from Doctaire STURTEVANT combine tremendous suction performance with compact design and robust construction.
Applications:
The new Tiger range of single-phase industrial vacuum cleaners are designed to provide superb suction performance combined with simple operation. The units are very versatile allowing use in a variety of different applications. The type H version permits the collection of hazardous materials such as asbestos and with the addition of ancillaries, liquid collection, floor drying and bulk product recovery are well within the Tigers' capabilities.
A unique design feature allows the retro-fitting of a disposable paper bag attachment and Hepa filter which, with the addition of one or two minor fitments, enables a standard machine to be converted into a type H unit in accordance with BS 5415 part 2 section 2.2 supplement No. 1 features additional to the basic units include a 23 liter capacity internal metal separator bin, an adjustable front floor nozzle and selection of lids for special applications.
Tiger vacuum cleaners are fitted with a standard tapered hose inlet of 50 mm bore and require a reducing bush when 40 mm bore suction hose is used.
ADVANTAGE OF TIGER VACUUM CLEANERS:
Compact Design
Very impressive suction performance built into compact motor housing allows the slim line Tiger into confined work areas.
Superb Suction
Twin [110/240V] or triple [240V] 1000 watt by-pass vacuum motors provide real industrial performance on single-phase electric supply.
Quiet Operation
New environmentally friendly acoustic motors giving low noise output of only 80 dB(A).
Type H Filtration
Disposable paper bag facility and heap filtration combine towards meeting the filtration requirements of type H amendment to BS 5415 part 2 section 2.2 supplement No.1
Simple Maintenance
Simple Maintenance is possible thanks to unique motor housing design which allows easy access to inner motors and HEPA filter assembly.
Tools and Accessories
The Tiger machines can be used with hoses of 50 mm, 40 mm and 30 mm bore and nearly one hundred different tools are available.