Vacuum Cleaners TEXTRIM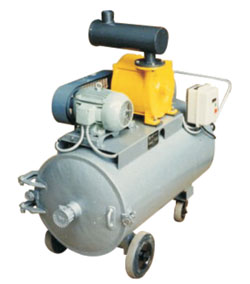 Doctaire are leaders in the design and manufacture of specialized suction cleaning equipments and systems. The TEXTRIM is a unit widely used for two suction cleaning duties at a time and is suitable for continuous operation.
The Textrims' are in use for cleaning machinery of blow room, spinning preparatory including bottom pit of card, ring, spinning, post spinning and winding and all types of looms in weaving shed. It has a placed in cloth department too. The users' experiences - "Their use improves quality and increase productivity".
APPLICATIONS
The Textrim range of heavy duty mobile industrial suction cleaner is designed to tackle a wide range of suction cleaning duties in textile mills for which smaller machines are clearly inadequate. High suction power with multi-stage turbine type air exhauster unit for real industrial performance to suit applications in textile mills.
TROUBLE FREE
Induction motor with belt drive makes for trouble free continuous operation.
EFFICIENT COLLECTION & FILTRATION
Material is collected into a nylon mesh bag, not into a filter bag, thus, collection and disposal is made easy, filtration improved, performance maintained.
COMPACT DESIGN
Compact design of the powerful machines allows in to pass easily through narrow alleys.
LARGE CAPACITY
Its large capacity fluff collector unit allows the machine to work without halt for a very long time.
BULK COLLECTION
Textrim can collect bulk material faster minimizing down time of the machine being cleaned. For the application of under card cleaning [bottom pit], it makes wonders and does its duties even without stopping the card, thus allowing increased production. It would be an asset and most wanted equipment for certain cleaning duties in blow room, where only the Textrim may reach and do the job effectively beyond imagination.
MULTI OPERATOR CLEANING
Textrim can be used simultaneously for two point simultaneous suction cleaning duty both pipe work and hose must be sized to suit volume of material to be collected and the conveying distance involved.
CENTRAL SUCTION SYSTEM
Textrim can be connected to runs of fixed pipe work to give multi level, multi point suction cleaning within a building.
ADVANTAGES
Textrim turbine suction cleaners are built tough enough to withstand hard duties
Turbine type air exhauster consumers less power when running at maximum suction.
The machine has no tight internal clearances and thus has minimal maintenance requirements.
Mobility allows users to bring the Textrim's superior suction performance wherever it is needed.
Large air volume effects faster pick up and allows multi operator duties. High suction power makes is suitable for long distance pipe line for central system.
STANDARD SPECIFICATIONS
It is includes a multi-stage turbine air exhauster unit with belt drive from a 3 phase TEFC induction motor fitted with push button operated starter. The machine includes easily removable nylon mesh fluff collector bag, efficient non-woven, polyester filter element supported by cage, vacuum sealing type hinged lid of fluff collector unit and specially designed hose connection points [Snap Valves] - all mounted on rubber tyred wheels.
TOOLS & ACCESSORIES
Textrim machine can be used with hoses of 75 mm, 50 mm, 40 mm size and number of different types of tools are available. However, the standard set detailed here is specified for most general cleaning duties in textile industries.
PVC reinforced PVC flexible house, Aluminium extension tube, Curved floor handle fabricated from aluminium tube, 305 mm size nylon brush nozzle complete with swivel joint, Aluminium fabricated round de-dusting brush nozzle, Aluminium fabricated rectangular nozzle tool, Aluminium fabricated taper nozzle large, Aluminium fabricated crevice nozzle tool.