A Doctaire Mammoth Industrial vacuum system cuts costs by reducing cleanup time and reclaiming valuable materials. This versatile vacuum system can be used to pick up any material that will flow through a hose. With its long reach and powerful suction, Doctaire Mammoth cleans out deep pits, dust elevators and other hard-to-reach spots.
Doctaire Mammoth cost cutting power has been proven hundreds of times. In fact, most Doctaire Mammoths pay for themselves in less than six months through reduced labor costs and reclaimed materials. Units are available with capacities upto one hundred tons per hour, conveying distance upto 2000' [610m], and motors from 10-300 HP.
Positive displacement vacuum pump for highest suction [18" Hg/457 mm Hg standard, upto 22" Hg/559 mm Hg]
Virtually constant air volume displacement prevents the plugging problem common with fan-type vacuums.
Filtration system allows continuous / dry pickup without bypassing filters.
Full hoppers can be removed by forklift for dumping. Alternating two hoppers can provide almost continuous operation.
Rugged, compact "Powerhead" contains all major components.
Standard safety features include auto shutdown in event of full hopper, dust passage, temperature overload or low oil level.
Suction power rises with increased hose loading; efficiency is not depended on constant feed rate.
Multi operator, fixed pipe work systems
Working as the heart of fixed pipe work systems in heavy industries such as Iron & Steel, Cement, Power Generation, Quarries, etc. the Mammoth provides the power to enable multiple operators to work simultaneously, to execute the cleanup in the shortest time, thus reducing cost and releasing manpower for more important productive (and more profitable) tasks.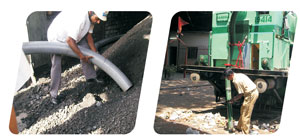 On a large site, with long conveying distances, or where cross contamination of products is to be avoided, shorter, dedicated pipe runs can be employed. As a 'self contained unit', The Mammoth is highly mobile and can be easily transported around the plant, and connected where required. This reduces plant costs and offers additional savings from material recovery and waste elimination.
Bulk Collection
Manual removal of large spillages from the plant, around the belts, conveyor, elevators is expensive both in labour and time. The Mammoth has the power to enable bulk collection of large quantities, allowing fast access to the breakdown site to enable repairs and quicker return to productivity with minimal cost.
In addition, removal of spillage from conveyors, transfer stations, loading points, belt scrapers, damaged bags, spilled containers, emptying of pits, holds, silos, etc. is achieved quickly and cost effectively as well as recovery from stockpiles and ground storage facilities.